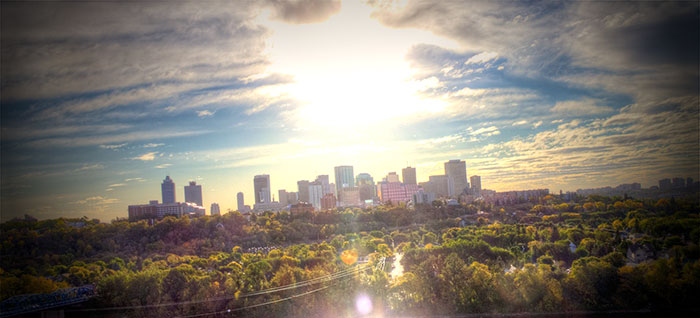 Summer in Edmonton is one of my favorite times of the year. The days are long, full of sun and there is always so much to do around the City. It looks like I'm not the only one that shares that sentiment  as you may have heard that Edmonton was named one of National Geographic's best summer trips to take this year! I couldn't be happier that our City is getting the recognition it deserves, especially considering that Edmonton was the lone Canadian location out of the list of 11 summer hotspots chosen by the prestigious travel magazine.
As an Edmontonian, I am definitely eager to get out there and enjoy the outdoors this summer. As an Optometrist, the summer months also mean that I get a lot of the same questions from my patients, which is when I realize that there are many misperceptions about how the sun affects your eyes, the value of a good pair of sunglasses and their affect on your overall health. So today, I want to tackle some of these misperceptions in hopes that you will make protecting your eyes from the sun a priority!
Get the Facts
Did you know that the prairie provinces get the most sun in Canada? In fact, four of the top sunniest cities are in Alberta! in addition to that, you might be interested to know that Edmonton take second place out of 10 Canadian cities for having the most sunny days in Canada. Stats show that Edmonton actually gets 2 300 hours of sun each year! Interesting to note, the city that gets the least amount of sun each year is Toronto, which gets 2 066 hours of sun each year. What these facts about the sunshine in Edmonton show is that you need to protect yourself from the sun year-round, not just in the summer.  
How the Sun Damages the Eye
Prolonged exposure to the sun's harmful UV rays can damage sensitive cells in the eye and is associated with multiple eye conditions such as cataracts, photokeratitis, conjunctivitis and other eye diseases.
Higher levels of UV radiation:
Your eyelids are meant to protect your eyes, however, the skin of your eyelid is extremely thin.That matters when we talk about the earth's depleting ozone layer. As the ozone layer becomes thinner, it's protective qualities are substantially reduced thereby exposing our eyes to higher levels of UV radiation and opening us for irreversible damage.
3 Types of UV radiation:
UV-C radiation is the most dangerous type of UV radiation but thanks to the ozone layer,  these rays do not reach us so we don't have to worry about them

UV-A (long-wave rays) are what we are exposed to the majority of the time. UV-A radiation is known to penetrate the skin deeper than UV-B radiation and is what accounts for your skin aging.

UV-B (short-wave rays) can burn us and leave a long – lasting damage. The strength of these short wave rays varies by time of day. Generally speaking, the hours between 10am and 4pm are peak hours for UV-B rays.
How to Protect Your Eyes from the Sun
Get a pair of sunglasses that have UV protection. UV protection is an absolute must because, under bright lights, your pupils have a natural inclination to want to protect themselves by reducing in size so as to limits UV rays from entering. When you wear sunglasses that don't have UV protection, you're are essentially tricking your eye into thinking it is protected from harsh UV rays. Because your eyes are under shade, the size of the pupil is not reducing thus leaving them unprotected. The problem with this is that the pupil is wide open and becomes vulnerable to harmful UV rays that are damaging the sensitive eye cells. In this regard, you could be doing more harm than good when wearing sunglasses that don't offer UV protection.
Just remember, that according to the American Optometric Association, your sunglasses should block 99% of UV-A an UV-B rays and they should screen out 75% – 90% visible light.   Be sure to ask about UV protection before you buy your next pair of sunglasses!
Look into getting polarized lenses to absorb glare. Polarized lenses were originally worn by athletes and people who worked outdoors. The reason being, that the glare from water, snow or even large objects could cause discomfort and a blinding amount of glare. Now, polarized lenses have become extremely popular and are worn by most.
People usually notice two big differences with polarized lenses. First, they discover how they are a lot more comfortable while driving and second, they notice the clarity that polarized lenses provide. Gray and brown are the most popular lens colours for polarized lenses. Gray provides the least colour distortion but does not offer any more protection than brown polarized lenses.
Visit us at one of our Edmonton Beyond Vision Optometry Clinics to see our fantastic sunglass selection. We offer designer sunglasses, with UV protection, that suit any budget!
Preventative exams are an essential component to your health. Regular eye exams should occur twice a year to ensure you are taking a preventative approach to your health. Be sure to book your eye exam to maintain optimal health with one of Edmonton's best Optometrist today or contact us via phone by calling 780-450-6700.