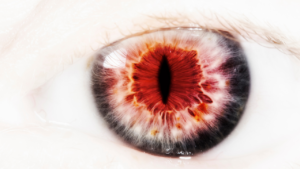 The end of October is approaching and Halloween is coming up. The holiday is scary-good fun for children, teens, and adults, but don't neglect eye safety when planning your Halloween costume. You don't want the scariest part of your night to be an eye infection that haunts you long past the holiday.
At Beyond Vision, we want you to have a safe yet spooky Halloween. Follow these tips below to make sure you have the best costume while keeping your eyes safe on Halloween.
Non-Prescription Contacts
It may be enticing to want to change the colour of your eyes for Halloween, however, non-prescription eye contacts bought from stores like costume shops, beauty salons, drug stores, or anywhere that doesn't require a prescription can cause harm.
Decorative lenses purchased without a prescription may not fit properly, leaving the eye more susceptible to scratches on the outer layer of the eye, or ulcers on the cornea. These lenses can also create a lack of airflow, bacteria buildup, and the friction from the material can cause scarring, infection, and possibly permanent vision reduction or loss. Risk is increased for those with preexisting eye dryness or allergies.
This doesn't mean that costume contacts are completely off the table. If you or your child/teen want to wear costume contacts for Halloween, visit us to acquire a prescription.
If you're wearing contact lenses for Halloween, remember:
Do not share contact lenses with others
Use contact solution to clean contact lenses
Always remove contact lenses before sleeping
Costume Makeup
Makeup is oftentimes an important part of an imaginative Halloween costume, however, not all makeup is as safe to use as others. Be careful when using costume makeup, as certain ingredients may cause irritation to the skin and eyes. Watch out for fragrances, preservatives like parabens and benzalkonium chloride, metallic pigments, and colour additives.
Avoid using glitter products, as the plastic particles are at risk of migrating onto the eye surface if applied near the eyelids. Craft glitter should never be used as makeup, as it can contain metal or glass particles and harmful dyes. Lastly, it's important to avoid applying products to the inner eyelash line, as this can lead to irritation and dryness of the eye surface.
Apply any makeup you're unsure about on a small patch of skin before applying to your face to test for any allergies or irritation.
Halloween Costume Accessories
Halloween masks are fun costume accessories, but can be a safety hazard when not worn properly. Make sure that hoods or masks don't block your vision before heading out trick or treating. When one eye is covered, loss of depth perception can increase risk of injury, so it's safer to wear accessories like eye patches for photos only.
Long or pointy accessories like a pirate's hook or witch's broom can be aesthetically crucial to a Halloween costume, but they can also be a safety hazard, especially in dark or crowded spaces. If possible, choose accessories that are short and made of a soft material.