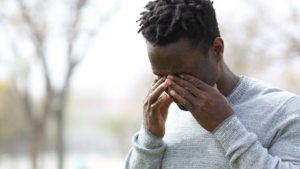 Have you had COVID-19? You might be part of the 20% of infections that lead to dry eye disease,
according to a recent study
. Luckily, Beyond Vision is here to help.
It's not entirely known yet how a COVID infection leads to dry eye symptoms, but it could be from a bout of conjunctivitis, also known as pink eye. People reporting Omicron infections have been experiencing the irritating eye condition in higher rates, and it could lead to lingering issues with your eye health.
The symptoms of dry eye disease after a COVID-19 infection are blurry vision, itching, pain, and a burning feeling. You may also be experiencing tearing or unusual discharge or, less commonly, grittiness, sensitivity to light, and swelling of the eyelid. Even if your eyes are excessively watery, that still can be caused by dry eye disease!
Dry eye disease can not only be uncomfortable, but it can cause a multitude of problems down the line if it isn't dealt with properly. Beyond Vision is here to ensure your eyes are taken care of and at their best.
Our expertly trained staff and optometrists are dedicated to helping you get relief and treatment of dry eye disease, whether it stemmed from COVID-19 or not. Beyond Vision has a dry eye clinic equipped with state of the art technology aimed at treating the root cause of dry eye disease, not just the symptoms. Here's how you can get long term relief:
The Alcon iLux® MGD Treatment is effective and painless and only takes 8-12 minutes to perform. The treatment can relieve your blurry, itchy, dry, sensitive eyes by restoring function to the glands for a healthier tear film. The results last from 6-8 months and does not require any post-treatment downtime.
Beyond Vision also offers ​​Intense Pulse Light (IPL) Treatment which is used to fight dry eyes that are a result of Meibomian Gland Dysfunction. This treatment can also be used to improve skin colour and texture and also boasts a short treatment time with no downtime.
The TempSure® Envi is a head-to-toe radiofrequency treatment which treats blepharoplasty, dry eyes, and dermatochalasis (droopy eyelids) for a smoother, healthier looking appearance. This rejuvenating treatment helps to stimulate clogged tear glands in order to diffuse the effects of dry eye disease.
Our dry eye specialists can help you determine which treatment or treatments are right for your specific symptoms. Improve your day-to-day vision and comfort with Beyond Vision's specific dry eye technology. Click here to book now: https://beyondvision.ca/treatments/dry-eye-treatment-new