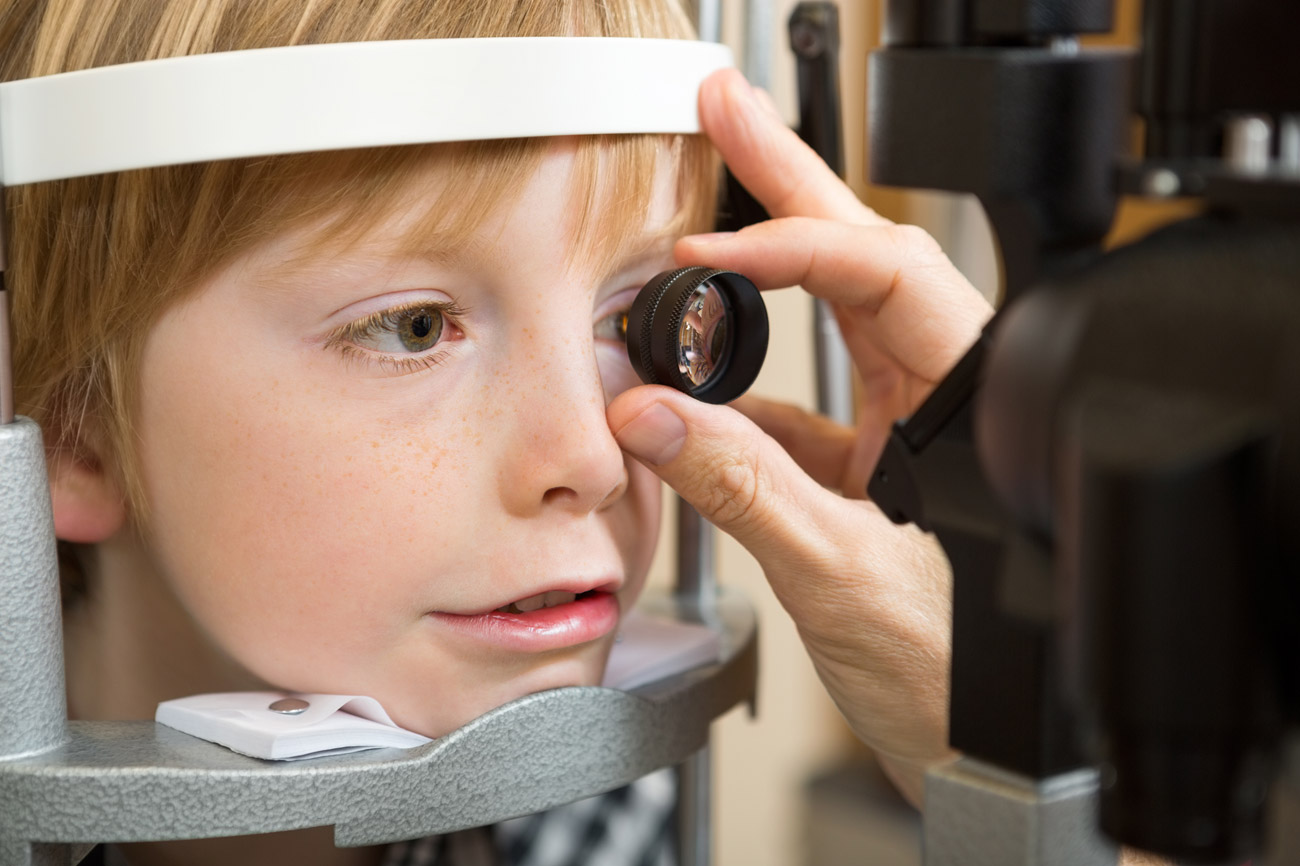 Infants as young as 3 months use their visual system to explore their world in order to interact and learn about their environment. This continued progress of the visual system contributes to how they interact and learn about their environment.
Visual systems develop in conjunction with growth. Babies at birth are able to differentiate between light and dark, and at one month are able to see their first color, red. At about two years of age there is full coordination between the eyes. Most of the development and growth of the eye occurs during childhood, which necessitates frequent comprehensive eye examinations. Children's eyes should be examined at 6 months, 3 years, 5 years, and then annually in order to facilitate proper eye health. Fortunately, Alberta Health Care covers children's eye exams every year.
The first examination of the eyes is to ensure that the visual system is developing properly. Alignment, coordination and vision are assessed to check for strabismus (eye turns) and amblyopia (lazy eyes). Other conditions, such as congenital cataracts, require immediate care. Prompt intervention can prevent permanent damage to the visual system.
80% of learning occurs through the visual system, and problems in the visual system are often the basis of behavioral, learning and perceptual problems. Vision problems often prevent children from being able to concentrate at school, resulting in learning difficulties and in some cases, misdiagnosed learning disabilities. A visit to the optometrist can establish whether or not a child is near-sighted (myopia), far-sighted (hyperopia) and/or has astigmatism. It can also be determined whether there is any lack of coordination between eyes therefore precipitating the need for vision therapy.
Common presentations of vision problems necessitating a visit to the optometrist include headaches, eye turns, avoidance of near/far work, skipping lines or losing place while reading, squinting of the eyes, and excessive rubbing or blinking of the eyes.
In addition to overall development and health, more acute concerns can also be addressed with a visit to the optometrist. Infections, such as pink eye, are characterized by red, swollen eyes with discomfort and are common in young children. Similarly allergies can present at a young age, and can cause discomfort such as swelling and itchy eyes. Both of these can be treated, preventing more serious infections and providing comfort and relief.
To make sure children's eye needs are taken care of, Alberta Health Care provides coverage for a complete eye exam annually until age 19. Furthermore, the Eye See Eye Learn program in Alberta provides kindergarten children with a comprehensive eye exam, and a free pair of glasses if necessary. if you have more questions, please call us or visit our clinic at Millwoods in Edmonton today.