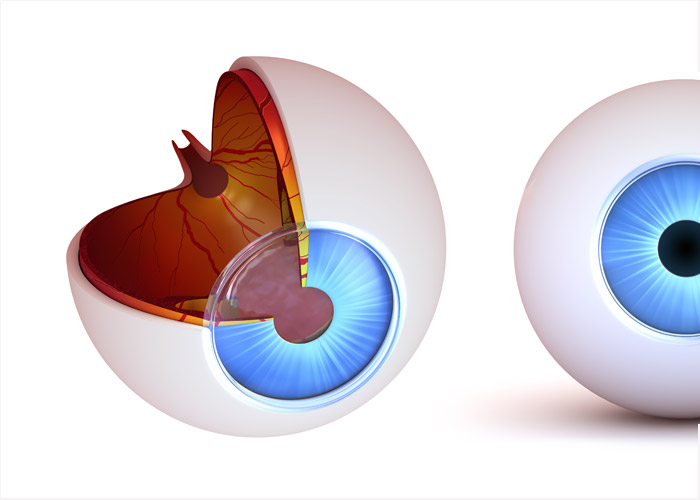 Glaucoma is a condition of increased eye pressure (intraocular pressure) in the eye. This rise in pressure is due to the gradual build up of fluid, aqueous humor, which under normal circumstances steadily exits the eye. This increased pressure exerts damage on the eye's weakest point, where the optic nerve inserts. Gradually, the optic nerve becomes damaged.
Glaucoma is a chronic and progressive disease. Changes in the structure of the optic nerve and associated nerve fibers result in a specific pattern of visual field loss. Regular monitoring is necessary for proper management and prevention of vision loss.
Though risk factors exist that may make an individual more likely to have glaucoma, they are not definite. Glaucoma more frequently occurs in the older age group (> 45), but this in no way suggests that it does not occur in younger individuals. Although family history of glaucoma increases the chances of getting glaucoma, it does not confirm its manifestation. High intraocular pressure is the most important risk factor for damage from glaucoma; therefore reducing it is the main target of glaucoma therapy. Race can also play an important role in developing certain types of glaucoma. Individuals of African descent are more likely to develop primary open angle glaucoma when compared to others. Finally, other circumstances and conditions such as diabetes, near-sightedness, long-term use of steroids and previous eye injuries can increase the probability of developing glaucoma.
Diagnosis of glaucoma is not done in a single eye exam. Glaucoma proves difficult to detect in its early stages, therefore the only reliable way is to observe change over time. It is a progressive condition, and therefore requires regular examinations to expose its presence. Structure precedes function when it comes to assessing patients, as optic nerve defects are present up to 6 years prior to any visual field loss. Therefore, certain assessments must be made at every eye exam. Firstly, the intraocular pressure needs to be measured via tonometry. This can be done either with a puff of air or with the use of a probe and anesthetic. Visual fields should be assessed, especially in individuals that represent suspicious cases. Visual field loss due to glaucoma always presents in a recognized pattern, therefore changes to the visual field can signify occurring damage.
Ophthalmoscopy is also necessary, as the optic nerve itself needs to be examined for any swelling and damage. These evaluations altogether over time can help decide whether or not glaucoma is the culprit.
Management of glaucoma is usually done with medicated eye drops, all which work to lower the intraocular pressure. These may sting or burn upon instillation, due to the preservatives added. It is critical to follow the drop regime as instructed, as this ensures that the drops are indeed having the intended effect. An important fact is that each drop will have their individual adverse effects as well as different drops may work better for different individuals. It is not uncommon to switch medications and try a few out until the goal is achieved.
Other methods of management include oral medications, which are used as an adjunct therapy with the eye drops. Surgery is also an option in cases where medications are not lowering the intraocular pressure enough and further intervention is required. Newer efficient methods exist where a laser is used to open up the outflow of aqueous humor to reduce pressure, making it an outpatient procedure.
Regular eye examinations are the single best way to detect early pathology and can in turn help prevent irreversible vision loss due to glaucoma.
For More information, please contact us or visit our office at Millwoods in Edmonton