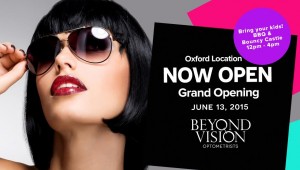 Beyond Vision is opening up a second location in northwest Edmonton and we want to celebrate the big day with you! Join us on Saturday, June 13th, 2015 at our Oxford Park Landing location: 151158 – 127 Street.
Here is what you can expect:
SPECIAL SALE:  Save 30% on ALL Purchases:
To celebrate the opening of our north Edmonton location, enjoy 30% off on all purchases! Excited? Us too! Check out the variety of eyewear you have to choose from at Beyond Vision and start selecting your special pair today. Be sure to save the date, as this amazing sale is for one day only!
MEET THE TEAM:
Our team of friendly and knowledgeable staff will be on hand to answer any questions you have about eye care. More specifically, you will get a chance to meet our North Edmonton team, Keith Soubliere and Amanda Lubbers who are two eye care professionals with decades of industry experience.  Trust us, you will be in great hands!
Whether you visit the south or north location,  something our expanding team has in common is our dedication to you! We are passionate about ensuring you have the best experience possible. Whether you come in for an eye exam, browse the latest designer pair, get your contact lenses or are just dropping in to say hi (which we encourage you to do!), we promise to go above and beyond for you at both locations.
FAMILY FUN:
The more the merrier! Be sure to bring the family as we fire the up the grill to serve a FREE sizzling summer barbecue. On top of that, we have a bouncy castle for the little ones to enjoy between 12pm – 4pm.
FREE DOOR PRIZES:
We love surprises and we hope you do too! There are tons of door prizes to be won on Saturday including a draw for a FREE Nikon camera!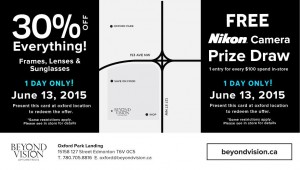 ABOUT OXFORD EDMONTON:
Oxford Edmonton is a residential neighborhood located in the Pallisades area of north-west Edmonton, Alberta. The Oxford neighborhood is bound by 153rd avenue to the south and 167th avenue to the north with 127th street to the east. White Oaks Shopping Square is located nearby and the closest Edmonton Public School is Lorelei Elementary School.
Be sure to contact us to book your next eye exam today! 
We are excited to see you this Saturday!
RSVP to the grand opening if you haven't already!