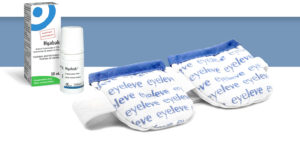 Revolutionary bottle, meet groundbreaking mask.
Winter weather can wreak havoc on our eyes, especially when it comes to keeping them hydrated. If you're a contact lens wearer, you probably know this all too well. Ditch the pharmacy shelf trial and error and come to Beyond Vision for the very best in eye hydration and lubrication. Learn more about the products we carry:

The Eyeleve by Bruder The Eyeleve by Bruder is the only compress with patented Medibead technology – proven to extend comfortable wearing time for your contact lenses. Just throw it in the microwave for 20 seconds, and enjoy the clean, moist heat for up to 10 minutes. We promise you'll feel an amazing difference!

Hyabak eye drops We recommend Hyabak preservative-free eye drops for the treatment of dry eye symptoms.

Hyabak eye drops are preservative-free, moisturizing, and help protect your eyes against UVB rays. Hyabak eye drops are compatible with contact lenses.

Thanks to the unique ABAK® container; a complex filtering system which ensures the sterility of the solution for 3 months from opening, Hyabak eye drops are preservative-free and deliver perfectly balanced eye drops through every use.

Hyabak contains:

Sodium hyaluronate, which hydrates and lubricates dry eyes. Actinoquinol, which mitigates the UVB radiation-evoked harmful processes.

Thealoz Duo Thealoz Duo drops contain the active agents Trehalose (3%) and Hyaluronic acid (0.15%). Trehalose protects cellular membranes against dryness, oxidation and temperature stress.

Hyaluronic acid, helps the body retain water and release slowly as needed. When used in your eye drops, it increases viscosity as the eyelid opens and decreases when the eyelid closes. Thealoz Duo is ideal for a variety of dry eye symptoms and causes, whether it's from the winter weather, hormonal changes, or just spending long hours in front of a screen.

Thealoz Duo uses the same ABAK® container as Hyabak, ensuring consistent delivery.

If you're ready to find relief for your dry eyes this winter, stop in to your local Beyond Vision location and we'd be happy to help!