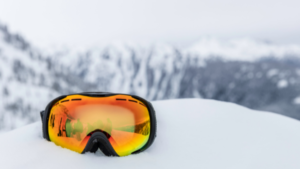 When people think about polarized sunglasses and sun protection, they often think of summer, hot vacations, or warm weather, but protecting your eyes from harmful UV rays can be as important or even more important in the winter — especially somewhere like Edmonton.
Have you ever gone outside on a bright, sunny winter day and been instantly hit with blinding light and pain? Although the sun is not as warm, the bright, white snow on the ground can act as a reflective surface, causing a phenomenon called snow blindness.
Snow blindness, or photokeratitis, is temporary eye pain and discomfort after exposure to too much ultraviolet (UV) light. It's like a sunburn on your eyes. It's usually not serious and will heal on its own within a few days.
Here's what to look for in a pair of sunglasses to prevent it:


UV protection: Not all protection is created equally. Look for sunglasses labeled 100% protection, or ask your Beyond Vision optician for a recommendation.
Make sure you choose sunglasses that are dark enough to block out the amount of light you want. If you can see your eyes through the sunglasses in the mirror in indoor light, they're likely not dark enough.
If you're going to be playing sports outdoors in these glasses, choose an option with a purple, pink, or yellow tint to maximize visibility against the snow.
Cost doesn't always tell the whole story. Just because a pair of sunglasses are expensive doesn't necessarily mean they're polarized. Always check with your Beyond Vision optician.