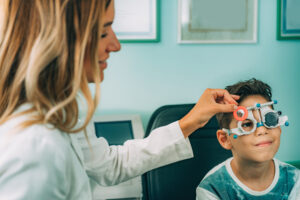 Can you believe there are only 16 days left in 2021? It feels like 2019 was just yesterday. If you haven't used your vision benefits yet this year, here's why you should:
1. Early detection is important.
Your optometrist doesn't just check how well you can see — they will look at the entire structure of your eye for signs of disease, degeneration, or abnormality. Even things like diabetes can be discovered by your optometrist
2. "Free" glasses are fun and stylish!
If you have a large amount of vision benefits left over but aren't due for an eye exam, why not splurge on a pair of designer frames? Stay on the cutting edge of trends with brands like Saint Laurent, DITA, Cazal, Hugo Boss, and more at Beyond Vision in Edmonton.
3. 80% of a child's learning is visual.
Keeping your kids on track with a yearly eye exam can help catch vision problems or changes that they might not be able to explain to you yet. If your child is squinting, experiencing headaches, or falling behind in school, it could be their vision. Book in with your Beyond Vision optometrist before the holidays.
4. Our technology is always evolving
Recently, we've added two new ways to help target the cause and reduce the symptoms of dry eyes, a common ailment in a dry climate like Edmonton. Get a consultation before the end of the year and experience relief from scratchy, itchy, painful eyes.
5. Do you require it for work or to drive?
Depending on your job or driving situation, you may require an eye exam to perform your duties or operate a car. Make sure you schedule yours in before it's too late and take advantage of your vision benefits!
The Beyond Vision team is happy to help no matter what your eye needs are. We have five locations across Edmonton and Leduc to serve you better. Come experience Service BEYOND Expectation.